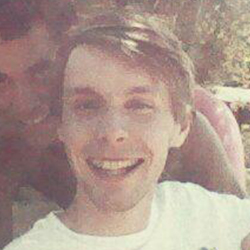 Hi, my name is Luke McIntosh, and however you stumbled upon this website, I'm psyched that you're here!
I've been a professional bassist for nine years now. I've learned a lot of lessons during those nine years, and I've dedicated Become A Bassist to sharing all of those lessons with you.
My hope is that you will find as much joy out of playing bass as I have. You may be able to actually make a living through playing bass!!!
Through playing bass, I've been able to travel all over the world, I've made the best friends I could have asked for and I've played with some phenomenal musicians. I've played to crowds of 1 person to stadiums of 15,000 people and I've loved every minute of it.
About The Lessons
Every article will cover some aspect of being a bassist – both electric and upright. Some lessons will address big picture issues, like what it means to be a musician/how to get gigs/should you play electric or upright etc… Other lessons will be on small picture details like what can you play over a specific chord/effects/technique things etc…
I want every article and lesson to help you develop a very deep understanding of musicianship. I know plenty of bassists who aren't very good musicians. Sure they may play music, but they aren't really true musicians. My goal is for you to become a true musician, who's instrument just happens to be bass.
This isn't a site where I'll show you how to play a certain lick for the sake of learning a new lick. There are plenty of other places on the Internet where you can do that. Here though, if there is an article about how to play a certain lick, or a certain song, it will be in service of developing your musicianship. We'll break everything down and see what's really going on and how we can use everything we learn in as many different ways as possible.
That way, when you do learn a new song or a new lick, you'll have the strongest possible musical foundation to draw from.
What Do You Want To Learn About?
Of course I could guess at what you'd like to learn about, but it's much easier, quicker and better for you if you just tell me yourself. Fill out the form below and I'll get back to you as soon as I can – perhaps with an article about what you're struggling with.
Answer this question:
What are you struggling with right now that you want to fix?
It could be anything or lots of things. Whatever it is, let me know and I'll help you out as much as I possibly can!
I read every email.