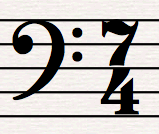 Have you ever tried learning to play bass in seven? Is it really as difficult as you've convinced yourself it is?
I'm going to go out on a limb and say,
"NO!!!"
When something is unfamiliar to us, we humans sometimes make the assumption that it is too difficult or that we'd never be able to do it…
So when the thought of learning to play bass in seven (either 7/4 or 7/8) comes up, people freeze and lose the battle before they've even begun.
But what if I told you that playing bass in seven could be as easy as tying your shoelaces or riding a bike…
You weren't born with the skill or knowledge to do either of those things, but you learned them so well, that now you do them…
Automatically!
Playing bass in seven can be the same way.
You can train yourself to play in any odd meter you can think of using a very simple method.
Check this out!
How To Play Bass In Seven – The Basics
"Click Here To Download Your Play Along Tracks. (Right-click and 'Save Target As' or 'Download Linked File')
Using this method, you'll learn how to
'Break it down' to the simplest possible parts
Make playing in seven just as easy as playing in any other time signature
Have fun while you're doing it
Be sure to sign up to the Become A Bassist newsletter to get first notice of when new lessons come up – including ones that are all about playing in odd meters.
Thanks for watching and reading. Until next time,
Keep Playing!!!
Cheers,